November Exhibitions & Events at Polk Museum of Art
Posted on October 31st, 2012 by Rebecca Thompson
Categories: Arts, Attractions, Event, General, Upcoming
Find a month packed full of events this November at Polk Museum of Art. Exhibitions, events, classes, workshops, tours and children's programs mark this month's calendar of events.
November at Polk Museum of Art is highlighted by the exhibition of vintage colored celebrity photographs taken before colored snapshots became commonplace. "In Vibrant Color: Vintage Celebrity Portraits from the Harry Warnecke Studio" is this Smithsonian-affiliated museum's first Smithsonian show.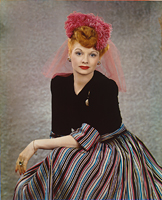 EXHIBITIONS
In Vibrant Color: Vintage Celebrity Portraits from the Harry Warnecke Studio
Through January 12
Dorothy Jenkins Gallery
PMoA is proud to welcome the Smithsonian's National Portrait Gallery's exhibition of color photographs of celebrities who rose to fame at a time when color photography was in its infancy. The exhibition is the first Smithsonian show being brought to the Polk Museum of Art, which became a Smithsonian affiliate in fall 2010. Warnecke (1900-1984), a pioneering photographer at the New York Daily News, designed a one-shot camera in the 1930s that yielded color images for the Daily News' Sunday magazine. Over the next 30 years, he photographed hundreds of newsmakers in a specially designed studio ― Hollywood icons, sports heroes and military and government leaders. This exhibition of 24 color photographs from the 1930s and 1940s includes actors Lucille Ball and Roy Rogers, trumpeter Louis Armstrong, baseball star Ted Williams, Olympian Babe Didrikson Zaharias and General George S. Patton. Most of the photos were donated by Warnecke's widow to the permanent collection of the National Portrait Gallery.
PMoA Collects
Through January 12
Gallery II
This exhibition offers a special sneak peek into our thriving permanent collection. In celebration of the collection, the Museum soon will be releasing its first Collections Catalog, a compilation of some of PMoA's greatest pieces, including work by Pablo Picasso, Robert Rauschenberg, Herman Leonard and Jerry Uelsmann. The catalog will help make our artwork even more accessible through photography, background information, biographies and interpretation. This exhibition is anticipated to raise awareness of the collection and funding for the catalog.
About Face
Through January 12
Gallery I
What is it about faces that is so intriguing? Faces are often how we recognize and distinguish a person; they are used to confirm identity and oftentimes contribute to first impressions. It is a commonly-held idea that you can't truly know someone without seeing their face; why else would so many comic book characters insist on unmasking superheroes? A curious people, we are mesmerized even by the faces of those we may never meet. The authors' depictions on the back cover of our books. Mugshots of unfamiliar criminals in the newspaper. Countless celebrity portraits and paparazzi snapshots in every magazine.  There are literally tens of thousands of images of beloved icons Marilyn Monroe and Princess Diana. The About Face exhibition will feature portraits of all mediums from PMoA's permanent collection.
David Maxim
Through December 1
Perkins Gallery
The elements of power and drama in David Maxim's works are undeniable – tornadoes, masculine welders and warriors; even Maxim's abstract pieces seem to evoke aggression. And yet, despite all of their strength, each subject reveals an equal measure of vulnerability. Maxim captures his warriors, not in the climax of battle, but in moments of weakness, facing grief, injury and death. Trapped in Maxim's images, the characters remain suspended in their pain; the absence of relief stretches the tension further. Some characters are even literally suspended, hanging by wires like marionettes and helpless to fight the greater power. His tornadoes, too, although invincible themselves, are reminders of imminent devastation and helplessness.
Miscellaneous: New Works by Trent Manning
Through November 11
Murray & Ledger Galleries
The sculptures of Winter Haven's Trent Manning cleverly balance the often mismatching qualities of childlike whimsy and dark humor. As if on a sort of artistic seesaw, Manning pairs lighthearted elements such as alphabet blocks, rocking horses, and wagons with grimacing characters, boasting large bald heads, empty eyes, and prominent beaklike noses. The artist's cynical wit and playfulness shine through his pieces. Assembling his sculptures from discarded metal, old tools, and wire, he transforms junk into eclectic masterpieces.
1989
November 17-February 10
Perkins Gallery
On June 21, 2012, Polk Museum of Art celebrated its 46th anniversary, and as we edge closer to the big 5-0, we think it is important to look back to our start. The Museum was officially incorporated as the Youth Museum of Imperial Polk County on June 21, 1966, and opened for business in a small church building at 115 Walnut Street on December 11, 1967. The name changed a few times, and in 1970, the Museum moved into a former Publix Super Markets building on Palmetto Street. Eventually, the Board settled on a fine arts focus and on June 13, 1985, renamed the Museum for the last time:  Polk Museum of Art. The current building – a work of art in itself with soaring 16-foot ceilings and marble-tiled floors — opened to the public in 1988. It was constructed for $5 million and opened debt-free. 1989 was the first full year that the Museum was open, and to celebrate, the 1989 exhibition will showcase some of the pieces that were collected during that first year.
STUDENT EXHIBITIONS
Photography & Digital Art, K-12
October 13-November 11
George W. Jenkins Student Gallery
This exhibition features digital work by students of all ages.
Art Out Loud: Artwork by Middle School Students
November 17-December 16
George W. Jenkins Student Gallery
RECEPTION: 11 a.m. Saturday, December 1
This exhibition showcases artwork by students in Polk County middle schools.
EVENTS
Election Day Special
Tuesday, November 6, all day
Wear your "I Voted" sticker and be admitted to the Museum for free!
Gems & Jewels Artist Market
Thursday, November 15, Noon-8 p.m.
Admission: FREE
Your favorite jewelers and artists are back to dazzle you with their unique creations.  It's a great opportunity to buy a wonderful, hand-crafted present for someone special in your life — or for yourself!
Vintage Holiday Soiree
Thursday, November 15, 6-8 p.m.
Admission: FREE
Join us after work for a vintage holiday cocktail party and peruse the exquisite creations of our Gems & Jewels artists. Bring your friends and kick off the season with music, spirits and hors d'oeuvres.
Elves Shelves Gift Shoppe
November 17 – December 2, during regular business hours
Admission: FREE. Prices of items vary.
This special secret shop is for children only! Gifts are priced for children's budgets to allow them to purchase holiday items for family and friends. Elves Shelves fun includes a wrapping station.
HOLIDAY SCHEDULE CHANGES
Thanksgiving
The Museum will be closed on Thursday, November 22, for the Thanksgiving holiday. It will reopen at 10 a.m. Friday, November 23.
The Shop at PMoA
The Shop at PMoA, located in the lobby of the Museum, will be open extended hours for holiday shopping. From November 27-December 21, The Shop will be open from 10 a.m. to 6 p.m. Tuesday through Friday. There is no admission charge to visit the Shop.
CLASSES, WORKSHOPS & TOURS
Curator Tour
Friday, November 9, 12:15 – 1 p.m.
COST: Free with Museum admission
Enjoy a special tour of the exhibition "In Vibrant Color: Vintage Celebrity Portraits from the Harry Warnecke Studio," with Adam Justice, PMoA's curator of art.
Beginning Photography Workshop for Point & Shoot Cameras
Saturday, November 10, 10 a.m.-3 p.m.
Cost: $35 members, $50 non-members
Learn to take better looking photos and get the most out of your point & shoot camera. Learn principles of composition, how to pose your subject and how to avoid common mistakes. These techniques also apply to taking pictures with your phone. We will also cover basic photo editing and how to organize your photos. Students are encouraged to bring examples of their pictures that did not turn out well, so we can discuss how to correct those mistakes. Students should bring their camera, camera manual and, optionally, a laptop for the photo editing discussion. Topics covered will include:
Composition and how to move beyond snapshots
Choosing a new camera
Basic photography gear
Common settings and buttons on most cameras
Setting up your camera to get the best photos
Shooting techniques
Importing your photos into the computer
Introduction to photo organizational and editing software
For more information, please visit GregoryMills.com.
Creative Studies
Saturday, November 17, 5-7:30 p.m.
Cost: $10 Members, $15 Non-Members
Presenter: Dr. Larry Rankin
Topic: "Living with the End in Mind"
Endings will explore one of the most common events in our lives.  If there are beginnings, inevitably there are endings: in jobs, finances, relationships, children (they grow up), stages of aging, death. There will come a time when we believe that everything is finished, only to discover that there is a new beginning.
What are our reactions to endings?
How do we live through them?
What endings have had the most positive or negative effects?
What endings are we looking forward to?  Dreading the most?
What is our Endings story?
What is our Legacy at our Ending?
CHILDREN'S PROGRAMS
After School Art
Mondays, October 1-November 5, 4:30 to 5:30 p.m.
Art classes for children and their families. Every week our educator presents a new project for kids of all ages and abilities. No registration required. FREE for members, $5 per child for nonmembers.
Family Fun Workshops
Saturdays, 10:30am – Noon
COST: FREE for everyone
Family Fun Workshops provide a safe, fun environment for families to participate together in hands-on activities led by an art educator. Workshops are held at the Museum and at facilities in Polk County as a part of our ongoing community outreach efforts.
November theme: Day of the Dead
November 3: PMoA
November 17: Winter Haven Public Library
Elves Shelves Gift Shoppe
November 17 – December 2, during regular business hours
Admission: FREE. Prices of items vary.
This special secret shop is for children only! Gifts are priced for children's budgets to allow them to purchase holiday items for family and friends. Elves Shelves fun includes a wrapping station.
Tags: Lakeland, Polk Museum of Art, Smithsonian